Looking back on Semicon Taiwan 2019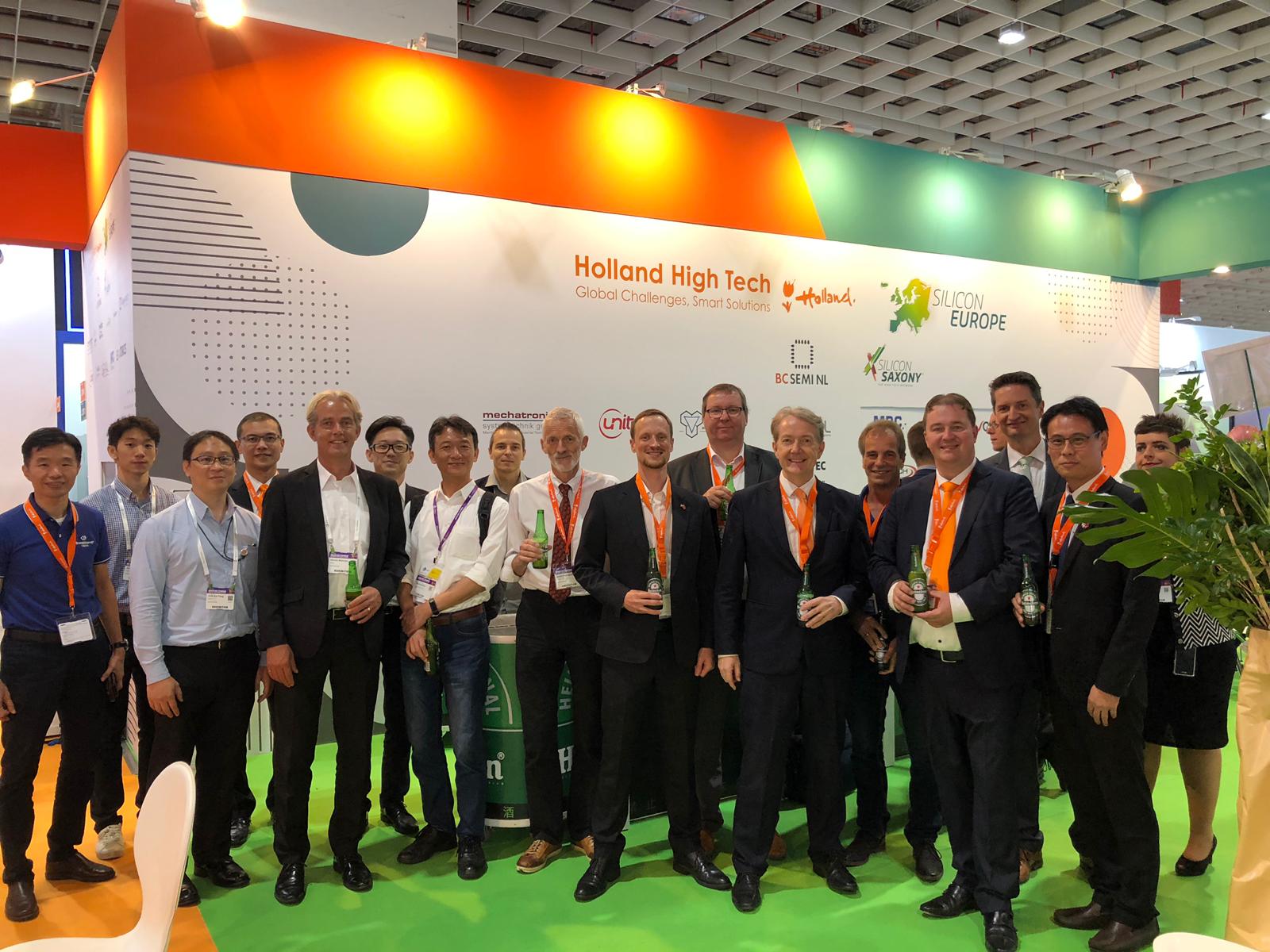 Just like in recent years, the Dutch semiconductor industry once again presented itself at annual trade mission to SEMICON Taiwan with the Holland High Tech Pavilion. "A great success", says Johan Hamelink, Asia Business Development Manager at Boschman Technologies:" SEMICON Taiwan is one of the most relevant exhibitions in the semiconductor industry and the concept of the Holland Pavilion at the exhibition together with the company visits program is of great value to us."
New connections
The delegation started the week with a very productive company visit to TSMC, the largest foundry in the world, to whom the Dutch delegation could pitch their technical solutions. The meeting with TSMC was followed by a Taiwan – Netherlands Semiconductor networking lunch hosted by the Mayor of Hsinchu Mr. Lin Chih-chien, whom also invited senior management of Taiwanese Semiconductor businesses like UMC, Powerchip and Wavetek which resulted in valuable new connections between Dutch and Taiwanese businesses.
Next to these highlights the week was full of events like the matchmaking seminar at the Hsinchu Science Park, the SEMI Gala VIP dinner with attendance of president Tsai Ying-Wen, and the many meetings which took place at the Holland High Tech Pavilion. The Dutch participants in the Semicon delegation were very enthusiastic about the results so far and already started with the follow-up of the new business leads. Jaap Beijersbergen CEO of Levitech commented; "The visit to TSMC was very well organized, I am glad to speak with exactly the right people from TSMC."
Priority focus market
Last year the Netherlands exported semiconductor equipment with a value of about 3 billion Euro's to Taiwan. Taiwan's high-tech industry is therefore one of the most important markets for Dutch technology and the Dutch high-tech sector has thus appointed Taiwan as a priority focus market. Within Taiwan's economy the semiconductor industry stands out because of its size and significance to the global supply chain. The value of Taiwan's semiconductor industry is 17% of it's economy and about 30% of it's exports. The successful Dutch SEMICON mission to Taiwan this week will hopefully support Taiwan's semiconductor industry and is expected to strengthens the Dutch – Taiwan technology ties even more.
Interested in joining us in the Holland High Tech Pavilion on Semicon Taiwan 2020? Please let us know by sending us an email: info@bcsemi.nl