Kick-off meeting HTSM Semiconductor Manufacturing Equipment Roadmap, 9 June 2023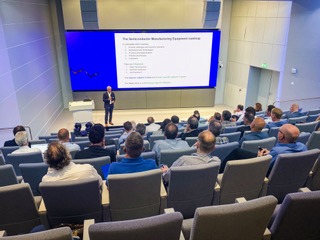 On Friday June 9, the HTSM Semiconductor Manufacturing Equipment Roadmap kick-off meeting took place in Veldhoven at ASML. The animated discussions during the event showed that there is a strong interest in this roadmap from a wide range of participants. 
Present were 31 parties with representation ranging from Larger Industry, Small & Medium enterprises to RTOs, Universities and Public Authorities. All in all, the meeting enabled a good starting point for updating the roadmap with a generic aspects team and 3 domain teams that focus on:
Wafer Fab Equipment, (team captain: Frans List, ASML)
Assembly Equipment (team captain: Ivan Stojanovic, OostNL)
Test Equipment (team captain: Paul van Ulsen, Salland Engineering)
The kick-off meeting was the first of a series of meetings where the planning is aligned with the updating of the KIAs (Knowledge and Innovation Agendas) and KIC (Knowledge & Innovation Covenant) completion efforts by the Ministry of Economic Affairs.
The next plenary session is scheduled for 27 October 2023 (to be confirmed).
Want to participate?
In case you did not make it to the kick-off on June 9, but still would like to participate, please, drop us an email (High Tech NL Semiconductors Cluster Manager, Tom van de Dussen – tom.van.der.dussen@hightechnl.nl) with your domain preference, and we will add you to the relevant team and include you in further communication on the HTSM Semiconductor Manufacturing Equipment Roadmap.
"TKI/PPS Toeslag"
We would like to refer you to the "TKI/PPS Toeslag" scheme that focuses specifically on research and innovation. A summary of this scheme can be found here (in Dutch only).
This event was powered by an Holland High Tech MIT-Network activities (MIT-regeling-NetwerkActiviteiten) grant.