Dutch-Finnish Mission: retrospect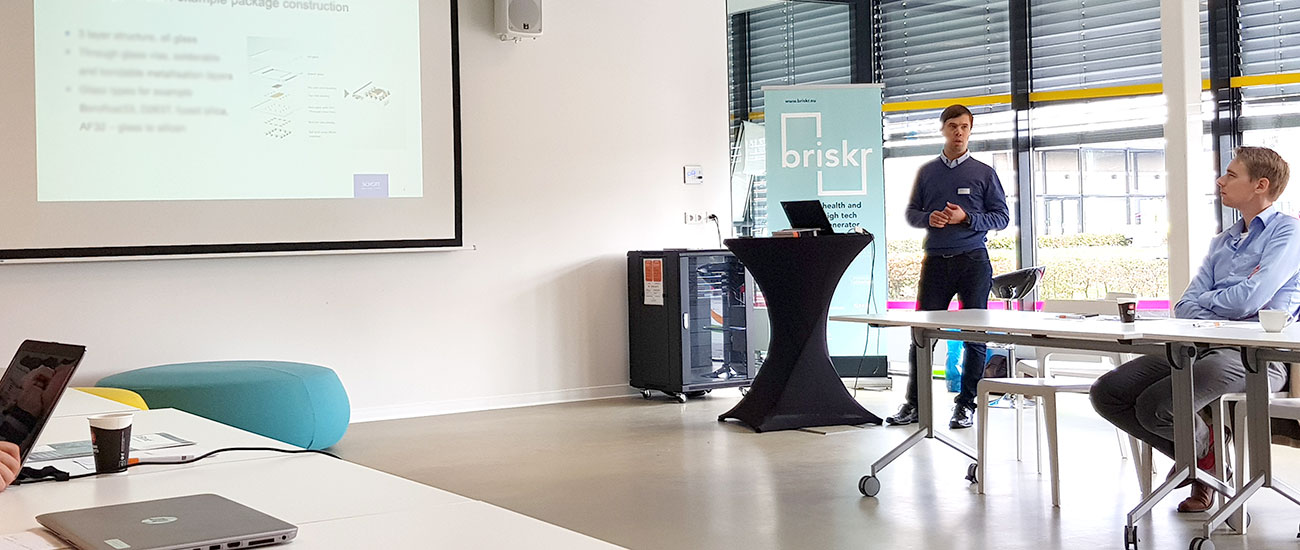 On October 3 & 4 a successful incoming Finnish Mission took place at 2 innovative Dutch locations: the High Tech Campus in Eindhoven and the Novio Tech Campus in Nijmegen. Main topics were Semicon, Integrated Photonics (interaction with Dutch Photonics Application), MEMS & Printed Electronics. Transparency and eagerness to connect were the primary indicators sensed amongst the participants. The full program was all about insightful presentations, pitches by Finnish and Dutch participants, interesting labtours and a visit to the museum Het Valkhof, tied into Semicon Photonics matchmaking events (during PHAPPS Week).
---
Wed 3 Oct 2018 – Eindhoven 
 High Tech Campus
Participants were warmly welcomed by the hosts René de Groot (Chamber of Commerce) and Barry Peet (BCSEMI NL). Followed by a personal introduction given by each of the participating members. During and in-between the matchmaking events one could participate in a guided tour through the cleanroom.
Philips Innovation Services (PINS)
Capabilities were openly presented by Robin de Bruin (Business Development Director MEMS and Microdevices), supported by Andrzej Sielecki (Technologist – Photonic Assembly). The audience was focussed on knowing where PINS is positioning itself in terms of volumes and capabilities. This was brightly answered by Robin.
SMART Photonics
Richard Visser (CEO) held an insightful presentation about how well SMART Photonics is progressing. Participants were proudly guided through history with several fascinating anecdotes.
Richard Visser, CEO – SMART Photonics: "Photonics will not compete with Semiconductors but will become an essential supplement: integration of the two is key to More than Moore."
Eindhoven University of Technology – TU/e
Several interesting presentations were given by Photon Delta, JePPIX, Bright Photonics and the TU/e (Thiago Raddo, Postdoc Researcher TU/e, on Brainport Eindhoven's 5G Ecosystem). In parallel one could attend the planned matchmaking sessions.
At the end of the day there was time to visit the Museum Het Valkhof in Nijmegen to show some highlights of the 'Oldest City of the Netherlands'. After the visit participants collected at the Hotel Blue for drinks and to meet Nijmegen's municipal's officials Andrea Voskens (Economic Affairs) and Mathijs Buddingh (Account Management and Acquisitions).
---
Thu 4 Oct 2018 – Nijmegen
Novio Tech Campus
The second day we were welcomed by Barry Peet (BCSEMI NL) followed by his inviting presentation on the Dutch Semicon ecosystems & various initiatives.
All Finnish and Dutch participants were allowed to pitch. After 14:00 hrs two company- and lab tours were given by Ampleon and Sencio.
Jeffrey Hubers van Assenraad, Sales Account Manager – Photronics: "I believe the consensus is: there was a high level of interest, well diverse, very informative offering many lead-ins to synergise and collaborate for each of the visitors."
---
Click here for the full program of both days
Met dank aan: Jeffrey Hubers van Assenraad – Photronics