SEMICON Europa 2023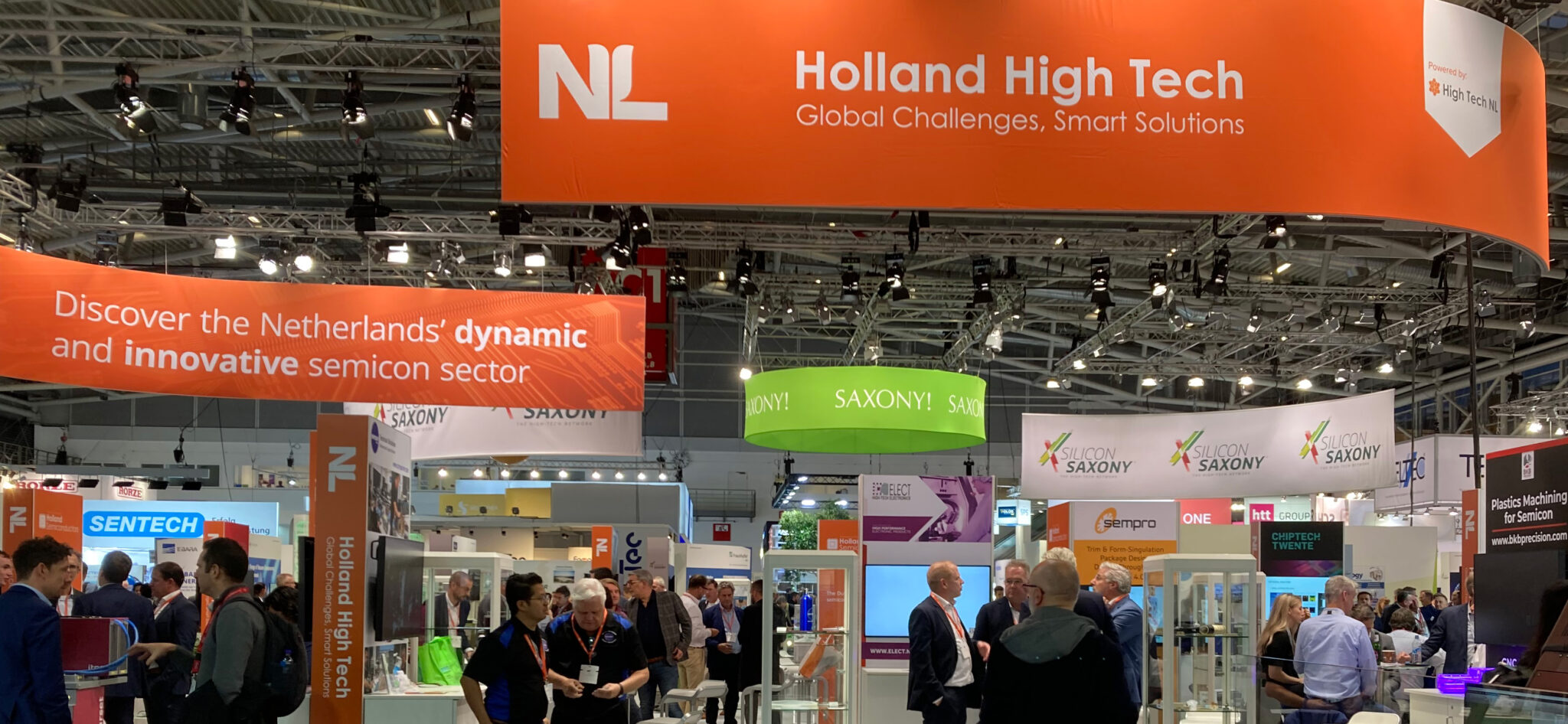 Holland High Tech Pavilion at SEMICON Europa 2023
High Tech NL Semiconductors again organizes a joint Holland High Tech Pavilion presenting the Dutch Semicon ecosystem and showing the strength of the Netherlands: the creative collaboration between end product producers and the supply chain.
Discover the Netherlands' dynamic and innovative semicon sector
The Netherlands is one of the few countries in the world, to have a complete value chain within its borders. From applied research, design architecture, the production of chips and the equipment required to make them, through to system integration and actual applications. The Netherlands also has a large base of companies that provide equipment for the semicon manufacturing sector.
Participation in the Holland High Tech pavilion
Your company presented at a highly visible central place at the exhibition
A fully designed and built display area (220m2), Holland High Tech branded
Shared meeting & facility area with bar and extra seats and two separate meeting rooms
Welcoming reception for your visitors
Daily network events at the booth
We offer different full service packages for individual units
High Tech NL Semiconductors offers an all-round trade fair service by taking over the complete booth organisation and support, the design and construction of the joint booth and of your exhibitor unit, project management and communications before, during and after the exhibition, and the creation of a separate exhibitor directory with company profiles.
Click here for an overview of the exhibitors at the Holland High Tech Pavilion SEMICON Europa 2022.
(application term has closed)
SEMICON Europa 2023:
Chips powering the data age
SEMICON Europa 2023 is co-located with productronica 2023. SEMICON Europa attracts media representatives from major trade, business and general interest publications from around the world. Before, during and after the exposition, the SEMI public relations staff works to address the needs of the visiting media and exhibitors, providing general information to and facilitating communications between the media and exhibiting companies.
Dates: 14-17 November 2023
Location: Messe München
Register
Deelname aan het event is mogelijk na registratie via onderstaande aanmeld-button. Na registratie volgt de bevestiging per e-mail. Wijzigingen van de aanmelding zijn eenvoudig via bevestigingse-mail door te geven.